More than 400 pilot whales have died on a New Zealand beach in one of the country's worst strandings.
The whales were found on Friday morning local time at Farewell Spit, on the tip of the South Island, an area that has been the site of previous strandings.
According to conservation group Project Jonah, most of the 416 animals were already dead when they were found.
Volunteers are frantically trying to refloat the surviving whales but some are now swimming in the wrong direction and heading back into the bay, Department of Conservation spokesman Andrew Lamason told Radio New Zealand.
Rescuers hope they will turn around at high tide.
If they do not, there may not be another chance until Saturday's high tide, as Mr Lamason said trying to rescue them at night would be too dangerous.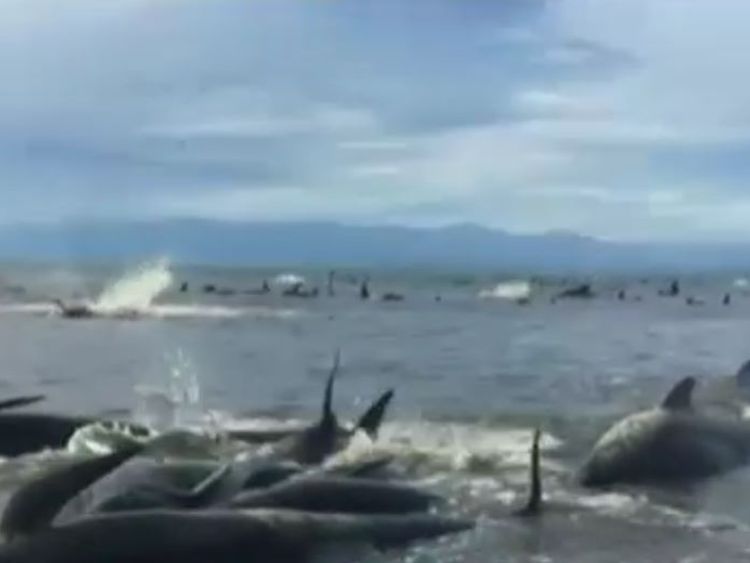 Meanwhile, around 80 volunteers will put sheets on the survivors and pour buckets of water over them in an effort to keep them calm and alive.
The Interislander ferry, which runs between the North and South Islands, offered free passage for marine mammal medics headed to the scene, while the road to the remote spot was packed with cars carrying people who were keen to help.
This is the third largest recorded whale stranding in a country that has one of the highest rates in the world.
The largest was in 1918, when about 1,000 pilot whales came ashore on the Chatham Islands. In 1985 about 450 whales stranded in Auckland.
It is not known why whales strand themselves but theories range from chasing prey to trying to protect a sick member of the pod.
Farewell Spit's geography has made it a common place for whale strandings – its long protruding coastline and sloping beaches seem to make it difficult for the whales to find their way.
http://news.sky.com/story/hundreds-of-stranded-whales-dead-on-new-zealand-coast-10761852